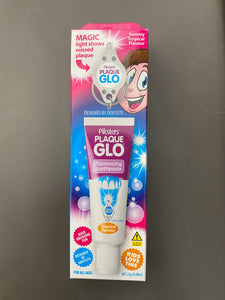 Piksters Plaque Glo plaque disclosing toothpaste and torch system helps to track down problem areas that cause decay and gum disease. 
Shine the Glo torch on teeth and the plaque will be exposed in the blue light. Get massive increase in Tooth-brushing enthusiasm and compliance - ALL AGES (especially Kids).

The special blue wavelength flashlight shows any residual plaque after brushing. - Effective plaque disclosing solution in the toothpaste enables corrective brushing techniques. - Forget the red dye and messy tablets/rinses. - No stained red lips or gums. - Contains 1,000 p.p.m fluoride content.